GeneTiles
In GeneTiles the visualization and browsing of RNAseq data is greatly improved. Open source alignment and statistics programs required to map raw illumina data-files are integrated in this platform and the whole data analysis pipeline is kept open for scientific inspection and reproducibility. Differential expression of genes is shown in a 2D array of tiles. The tile color and intensity are a measure of the significance of the differential expression. When a tile is selected, the gene is loaded underneath, scaled to fit the width of the screen. In a schematic view all introns are shrunk to a fixed short length to visualize the aligned reads in a graph above the exons.
GeneTiles is published in
Immunogenetics, Dec 2014
View GeneTiles demo:
www.GeneTiles.com
Limited free trial available, please contact us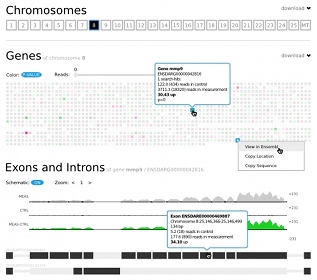 Reinventing microinjection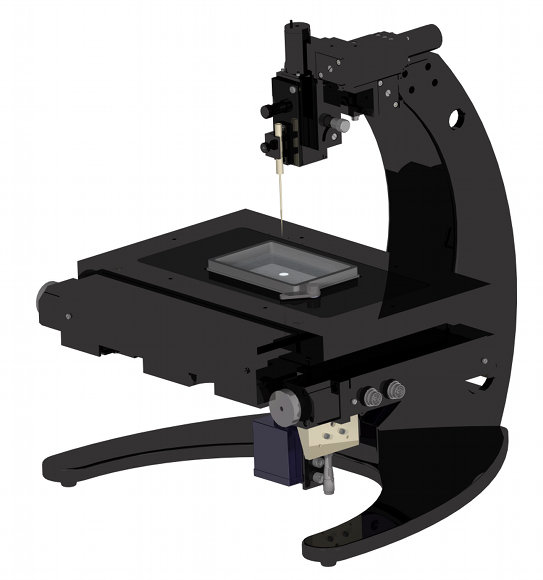 Microinjection is used for decades, however this technique has only recently been redesigned to fit the specific needs of modern high-throughput research.
Using a special grid, zebrafish eggs are aligned such that microinjection can take place at an unprecedented speed of 2500 eggs per hour.
The discovery of the possibility to infect and monitor tuberculosis progression in zebrafish is described in
this paper
. (open access, PLoS ONE, 2010)
More information on screening in zebrafish is available @
ZF-Screens BV
Mixing polymers with a cell suspension allows for instant cell tissue creation at predefined locations in a hydrogel.
The use of these injected cell spheroids in high-throughput quantitative cancer invasion screens is described in
this paper
. (Biomaterials, 2012)

High-throughput injections into the zebrafish egg's yolk are possible using the automated microinjection system. Applications comprise injections of DNA, morpholinos, bacteria, cancer cells and or fluorescent beads. Please contact for more details.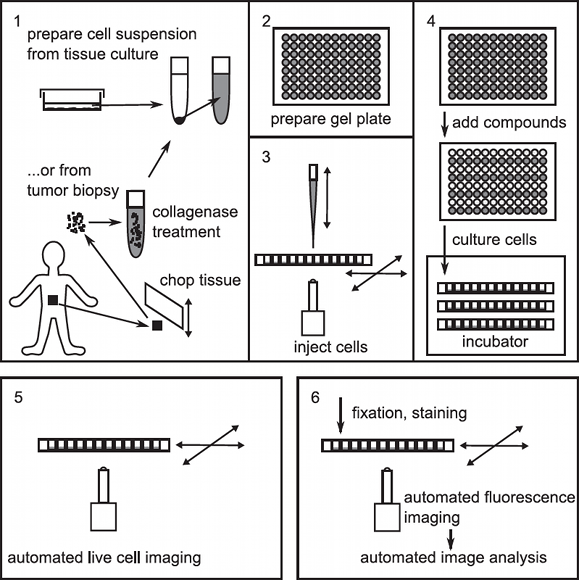 By automated injection of a cell suspension derived from cell culture or primary tissue material into collagen gel with a glass pulled needle, one can obtain adhered tightly packed cell spheroids within a couple of hours.
Advantages to other methods:
Spheroid formation compatible with all cell-types
Reproducible spheroid size (ANOVA, P=1.00) and spheroid outgrowth (ANOVA, P=0.80)
Cell-cell and cell-matrix contacts are created directly after injection
Spheroid postions are predetermined, ideal for high-throughput microscopy, compatible with e.g. Opera® High Content Screening System
Compatible with all gel types and 96, 384 and 1536 titre plates
Co-cultures possible by using a gel mixed with cells, or by injecting multiple cell-types next to each other in the same gel
Life Science Methods BV was founded on 8-8-2011 by Jan de Sonneville.
Chamber of commerce: 53301978
aim
Development of high-throughput methods for cell biology applications
for both life sciences and medical research.
Consultancy on method optimisation and pipeline development.
Current products
Microinjection robot for injection of cells into a hydrogel
Microinjection robot for injection into zebrafish eggs
Products in development
Microinjection robot for injection into the vasculature of zebrafish larva
Dispensing and sorting robot for eggs or larva
Imaging robot for larva (this product is not available in the USA)
2011-2020
Sold the second updated injection robot to
Herman Spaink
(
MCB
,
Leiden University
, NL)
Sold the first updated injection robot to
Erik Danen
(
LACDR
,
Leiden University
, NL)
to replace the AMS bought in 2011. Sold the seventh AMS to
Servier
Paris, France
Sold the sixth AMS to
Camila Vicencio Esguerra
(
Chemical Neuroscience (BIOCEG)
,
University of Oslo
, Norway)
Sold the fifth AMS to Alexander Crawford (
Chemical Biology Group
,
LCSB
,
University of Luxembourg
, Luxembourg)
Sold the fourth AMS to the
Dasman Diabetes Institute
in Kuwait.
Sold the third AMS to Astrid van der Sar (
MMI research
,
VUMC
, Amsterdam, NL)
Sold the second AMS to
Erik Danen
(
LACDR
,
Leiden University
, NL)
Developed and sold the first Automated Microinjection System (
AMS
) to
Herman Spaink
(
MCB
,
Leiden University
, NL)
contact
Jan de Sonneville
LinkedIn
Life Science Methods BV
JH Oortweg 19
2333 CH Leiden
The Netherlands (
google maps
)
+31 71 332 2345
send message
news
GeneTiles
microinjection
zebrafish
3D tissue
company
contact